The A-to-Z Self-Care Handbook for Social Workers and Other Helping Professionals: Book Review
Are you a social worker or other helping professional who struggles with incorporating self-care into your daily life? And/or would you like to start off the new year on a more relaxed note? If yes, you are likely to find Erlene Grise-Owens, Justin "Jay" Miller, and Mindy Eaves book "The A-to-Z Self-Care Handbook for Social Workers and Other Helping Professionals" [affiliate link] very helpful.
The authors argue that we must see self-care as not only critical for our mental health but as a necessity for ethical practice. Without taking care of ourselves, we will be hindered from providing the best care to our clients and are likely to suffer from stress, burnout, compassion-fatigue or secondary/vicarious trauma.
The authors are themselves practitioners and have put together 26 tips (each one corresponding to a different letter of the alphabet) that have been tested by them.
They also provide a template form to make it easy for us to set our specific goals using the SMART method (specific, measurable, achievable, realistic and time-limited) along with accountability measures (to evaluate our progress such as tracking forms/apps).
I highly recommend this book for social workers and helping professionals, as well as caregivers. It provides us with helpful approaches and creative ideas to making self-care a part of our daily life. These include simple activities from journaling and cooking to making changes in the workplace on both an individual and organizational level. I expect to be referring to this book in the future, as I adjust my own work-in-progress self-care plan!
Below is a poem illustrating 8 key take-aways from this book. Please keep your eyes out for part two for additional pieces of wisdom. I've purposely chosen the poem format to make writing this review more fun for me, thereby practicing what the authors are recommending, incorporating more joy into my everyday routine.
Simple Ways to Embrace Self-Care
A is for awareness,
Start observing your routine,
When are you feeling stressed?
What areas need improvement?
How are you doing in terms of food, sleep etc.?
B is for balance,
Life balance is a myth!
Determine what's important,
Build supports; manage technology,
Be selective in your choice of opportunities.
C is for connection,
When and how are you connected?
Who are the people you're most connected to?
Are they an antidote to your anxiety/stress,
Or are they primarily an added stressor?
D is for diet,
You are what you eat,
This applies to food, information and spirituality,
How can you make what/how you're consuming…
More nourishing for your body, mind and spirit?
E is for exercise,
Aim for an enjoyable activity,
At least twice a week,
Consider doing simple stretches in bed,
To start your day with an energy boost!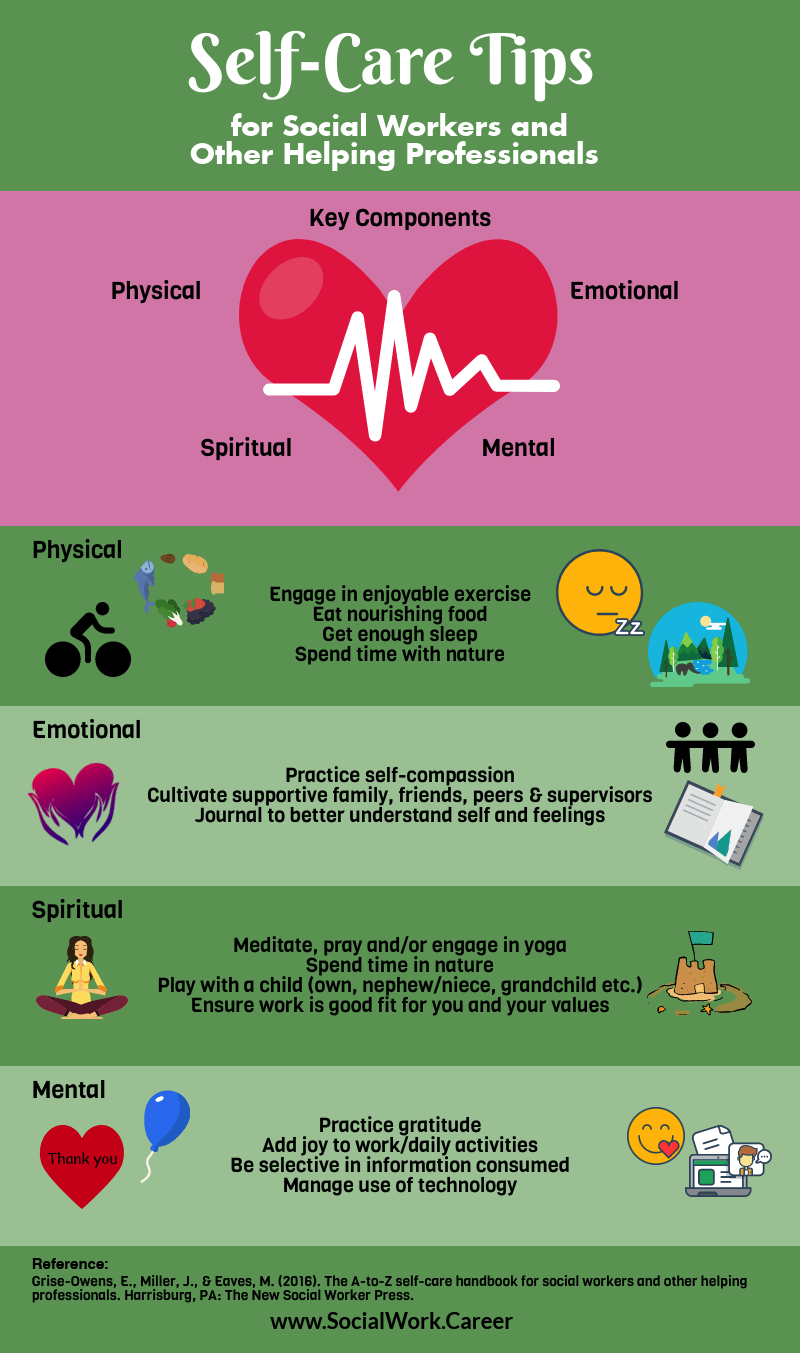 Jumping to J for job satisfaction,
Create an emergency self-care plan card,
To carry in your wallet,
Why? Because it's hard to think of self-compassion,
When you are feeling overwhelmed.
K is for kaizen method,
Boost your self-care with small changes,
One positive shift encourages yet another,
There is only so much to know/do,
You're but one link in a chain!
L is for lifestyle,
Include a contingency plan for your self-care,
Whether it's stopping to breathe,
Or focusing on the joy in what you do,
Make self-care part of your daily routine!
Please check out part two of this post to see the remaining recommendations for improved self-care. Lastly, to obtain valuable guidance on each of the tips mentioned, read: "The A-to-Z Self-Care Handbook for Social Workers and Other Helping Professionals!"
What would you like to add to your daily/weekly routine of self-care? Please share in the comments section below 🙂
Reference:
Grise-Owens, E., Miller, J., & Eaves, M. (2016). The A-to-Z self-care handbook for social workers and other helping professionals. Harrisburg, PA: The New Social Worker Press.
Disclosure of Material Connection: I received one copy of the book mentioned above for free in the hope that I would mention it on my blog. In addition, the link to this book is an "affiliate link." Regardless, I only recommend products or services I use personally and believe will be good for my readers. I am disclosing this in accordance with the Federal Trade Commission's 16 CFR, Part 255: "Guides Concerning the Use of Endorsements and Testimonials in Advertising."
SaveSave
SaveSave
SaveSave
SaveSave
SaveSave
SaveSave
SaveSave
SaveSave
SaveSave
SaveSave
SaveSave
SaveSave